Special One-Shot: The DiPSIster of Psychic Saiki Kusuo
Chapter
Volume
Volume 1
Chapter
00
Kanji
超能力者 斉木楠雄のΨ難
Romaji
Chō nōryoku-sha Saiki Kusuo no Sainan
Release Date
August 16, 2010[1]
Issue
Shōnen Jump NEXT!! Summer 2010
Episode
None
Chapter Navigation
Previous
None
Next
Chapter 01
Special One-Shot: The DiPSIster of Psychic Saiki Kusuo is the first one-shot of The Disastrous Life of Saiki K. (Saiki Kusuo no Psi-nan) published on the 16th of August 2010. It lead the way to the creation of the manga series in whole.
Characters
Abilities Used
Levitation
Telepathy
X-Ray vision
Telekinesis
Psychometry
Short Summary
Kusuo is a 15 year old high school student. He dislikes the psychic abilities, telepathy, X-Ray Vision, telekinesis and psychometry that he was granted as a toddler.
Long Summary
Trivia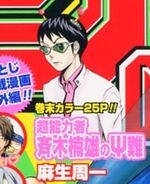 Kusuo has a significantly different color scheme compared to his current image on the cover of the magazine, sporting black hair, a white uniform jacket, and a pink button-up shirt.

In the title page, shown above, his hair color is pink but he still sports the same colored uniform.

Unlike later installments, Kusuo was not born with his power.
Kusuo's powers seem more limited, such as he bleeds when using weaker forms of telekinesis.
Unlike a majority of the manga series that was published in Weekly Shōnen Jump, this was originally published in Shōnen Jump NEXT!!, a now defunct magazine for manga one-shots.
References
Community content is available under
CC-BY-SA
unless otherwise noted.