Special One-Shot: The DiPSIster of Psychic Saiki Kusuo
Chapter
Volume
Volume 1
Chapter
00
Kanji
超能力者 斉木楠雄のΨ難
Romaji
Chō nōryoku-sha Saiki Kusuo no Sainan
Release Date
August 16, 2010[1]
Issue
Shōnen Jump NEXT! Summer 2010
Episode
None
Chapter Navigation
Previous
None
Next
Chapter 01
Special One-Shot: The DiPSIster of Psychic Saiki Kusuo is the first one-shot of The Disastrous Life of Saiki K. (Saiki Kusuo no Psi-nan) published on the 16th of August 2010. It lead the way to the creation of the manga series in whole.
Characters
Abilities Used
Levitation
Telepathy
X-Ray vision
Telekinesis
Psychometry
Short Summary
Kusuo is a 15 year old high school student. He dislikes the psychic abilities, telepathy, X-Ray Vision, telekinesis and psychometry that he was granted as a toddler.
Long Summary
Kusuo Saiki is a 15 year high school student who has psychic abilities. His abilities first appeared when his parents took him to the park at 1 year old and disappeared from their sight. After they search for him for 5 hours, they find him and he has completely changed, being able to do the unimaginable at a young age. While most people would dream of these abilities, he wants to get rid of them as soon as possible.
Kusuo starts by talking about telepathy, an ability to hear others' thoughts. He states it is not great as it seems, followed by being called by Nakajima, his class representative. She greets him a good morning but her thoughts are full of being annoyed at him. He states he can not turn the ability off when he wants, so he ends up hearing these awful thoughts nonstop since he was a child. Not to mention he can hear everyone's thoughts in a 7 km radius, making it more useless for him. He asks if you will be willing to have this power if it means you will not trust what others say to you. He also mentions of being able to talk to others with the ability outward too, but there is not much point for it. Kusuo then gets startled once he thinks someone knows he can hear their thoughts, but realizes the person has a case of chuunibyou. He also ends up bumping into someone's shoulder and the individual thinks rude things to him. Kusuo knows others can think what they want, as they believe no one can hear them, but he will not tolerate those who berate him. He decides to use his telepathy against them, by making a song get stuck on their heads. With this he will not be annoyed by their thoughts but the song is a bit annoying for him too.
In class, Kusuo admits he can see everything, since he has X-ray vision. He can guess some guys might see the appeal of the ability. He then goes on an analogy that if you were able to see something you normally can not for a long period of time, you will just get used to it and not think of it as something special. Since he had this ability at 1 year old, he got used to seeing naked bodies at the age of 3. Like telepathy, he can not turn this ability off when he wants neither. While explaining this, a classmate annoying some female students ends up going airborne and landing by sitting on Kusuo's face. Angered, Kusuo ends up using an another ability to tear his clothes. Kusuo goes to eat his lunch and explains further that the ability can be affected by his eye focus. Kusuo tries to only see skin, but if he does not focus too much he will end up seeing muscle and tissue. He ends up doing so and loses his appetite. He goes on to mention that there are also things that he ends up seeing that he should not have. The popular male student wears a wig, the quiet student has a tattoo, a classmate that seems male is actually female and several classmates wear idol t-shirts. There is only some benefits however, and that is helping others. Kusuo sees his teacher's heart is not looking okay and uses his telepathy to tell him to go have a checkup. With a sense of foreboding, the teacher decides to go after school ends and Kusuo smirks.
Outside, playing as goalkeeper in soccer, Kusuo introduces one of his slightly more useful, albeit less annoying, ability. The ability is telekinesis, where he can move or destroy objects without touching them. It is convenient but he can not fully master it. Once, when he was 7 and watching TV, he did not have the remote and use the ability on the TV. What happen next is he used it too strongly as he destroyed the TV and the wall right next to it. In other words, he can not fully regulate the strength of it. However, since it has been years since then, he has a better grasp of it and tries to tie the shoe of a classmate. He then loses some control when he got distracted and made the guy back flip and kick the ball into Kusuo's goal. His classmates are surprised on the score but angry at Kusuo for not catching the ball. Kusuo then explains what he was using before was a weak form of telekinesis however when using it he gets exhausted and nosebleeds. It does not stop Kusuo as he wants to master it this time around. He tries to tie the shoe once again and unknowingly made the guy overplay several athletic guys in the school. Once he scores Kusuo finally ties his shoe, lost a lot of blood and loses his footing. His teammates are angered at him once again and Kusuo states again it is a useless ability.
Now at lunch time, Kusuo explains the most unnecessary ability, psychometry. When touching an object, he can find out who previously used it and what they did with it. For Kusuo, it can be any object, even something trivial as chopsticks. Kusuo touches one, finds out who was the previous user (Shimoda) and immediately loses his appetite. Kusuo mentions he brought his own chopsticks, being eco-friendly, and destroys the other chopsticks he got. He states he should not grab the food, a passerby accidentally pushes him to touch it and he finds out it is past the expiration date, it had bugs, and someone sneezed on it. He then goes to accidentally touch the rice bowl and finds Shimoda has licked that bowl too. Kusuo goes to the nearest sink, completely disgusted. He goes to wash his hands, finds the water is reused from the pool, and Shimoda peed on it. Kusuo then grabs the towel nearby and finds that Shimoda has also used it on every part of his body. Kusuo decides to stop his explanation of his abilities and is angered at everything Shimoda done.
Kusuo asks the reader if they understand psychic abilities and why he wants to remove them. With his telepathy, he hears Shimoda has forgotten his towel. With his X-Ray vision he looks at the 2nd floor, sees Shimoda and again with telepathy he hears his plans to reuse the towel from earlier. Kusuo then uses his telekinesis on Shimoda, making him hit the roof and go airborne. Kusuo, with a sinister smile, repeats himself that the abilities are completely useless.
Trivia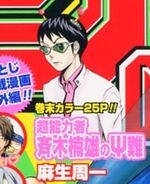 Kusuo has a significantly different color scheme on the cover of the magazine (of which this chapter 1st released in) when compared to his current image. He is sporting black hair, a white uniform jacket, and a pink button-up shirt.

In the title page, shown above, his hair color is pink but he still sports the same colored uniform.

Unlike later installments, Kusuo was not born with his power.
Kusuo's powers seem more limited, such as he bleeds when using weaker forms of telekinesis.
Unlike a majority of the manga series that was published in Weekly Shōnen Jump, this was originally published in Shōnen Jump NEXT!, a now defunct magazine for manga one-shots.
References
Community content is available under
CC-BY-SA
unless otherwise noted.