Welcome to Saiki Kusuo no Psi Nan Wiki!

Manga Guide • Characters • Administrators • Recent Changes • New Photos • New Pages • Help Wiki
Welcome to the Saiki Kusuo no Ψ Nan, a Wiki dedicated to everything about the manga Saiki Kusuo No Ψ Nan that anyone can edit. Please help us by creating or editing any of our articles! To edit articles, you must login or register to wikia.
We currently have 14,789 edits to 604 articles and 2,050 images on this wiki.
Saiki Kusuo no Psi Nan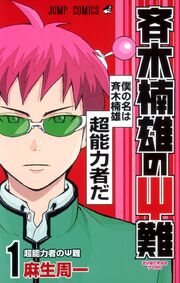 Saiki Kusuo no Psi-nan
(斉木楠雄のΨ難 Saiki Kusuo no Sainan, lit. "The Disaster of Psi Kusuo Saiki")
is a Japanese gag
manga series
written and illustrated by
Shūichi Asō
. Individual chapters have been serialized in
Weekly Shōnen Jump
since May 2012 until February 2018. An additional 2 chapters were released in May and July of 2018 in Shōnen Jump GIGA. All the chapters were collected into tankōbon volumes and published by Shueisha. As of 2018, there are 26 volumes that have been published. The manga inspired an
anime series
that premiered in July 4, 2016. Funimation streamed the anime under the title
"The Disastrous Life of Saiki K."
with English subtitles as it aired in Japan, and produced an English dub for the series'
first season
. A
second anime season
premiered in mid-January 2018 and a
special
that premiered in late December 2018. The series has a
live-action film
that opened in Japan on October 21, 2017. Recently,
The Disastrous Life of Saiki K.: Reawakened
, a Netflix Original Anime Series, was released on December 30, 2019.
---
Born with innate supernatural powers,
Saiki Kusuo
seems to have his life easy. He possesses various psychic abilities, including telepathy and psychokinesis among others, allowing him to get anything he wants. During kindergarten, he incidentally caught media attention after rumors of how he never loses any janken match against his friends and teacher spread around town. The incident made him came to the resolve of not using his power in front of others ever again so people will not find out that he is a psychic. But upon being a high school sophomore, with all hi-jinks that ensue, Kusuo is slowly cutting his resolve loose.
Characters
Did You Know?

Toritsuka was the reason why Kusuo developed the psychic ability of a spirit medium?


Ike-san used to be an ex-yankee?


Kusuo corrects that Takahashi is one of the main characters?


Nakanishi Kouta's stage name is a pun on "supernatural power" (Chouno Uryoku→Chou Nouryoku)?


Kusuo was the reason why Mera's father isn't being chased by debtors anymore?
External Websites
Affiliations
Quote of the Day
"
Life is in very easy mode. This is all because I am gorgeous.
"
On this Day
Latest Chapter/Episode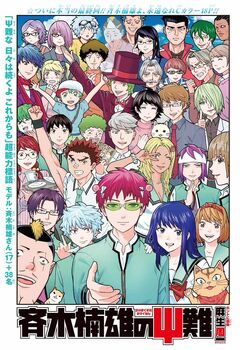 EPILOGUE CHAPTER 2: The RePSIval of Saiki Kusuo
---
Kusuo is now a third-year student living as a normal teenager with no psychic powers. Sort of. But being normal is harder than he thought.
Featured Volume/Character
Volume 4
Hairo Kineshi: Do your best! You can do it, I believe in you!! Don't give up!!
Saiki Kusuo: With what?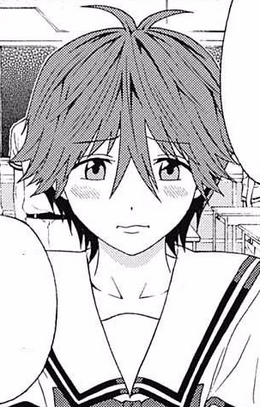 Suzumiya Harui
The new student in Reita's class. She is a cursed girl who has a death flag and the three psychics are doing their best to save her.
Social Media
Community content is available under
CC-BY-SA
unless otherwise noted.