Welcome to Saiki Kusuo no Psi Nan Wiki!

Manga Guide • Characters • Administrators • Recent Changes • New Photos • New Pages • Help Wiki
Welcome to the Saiki Kusuo no Ψ Nan, a Wiki dedicated to everything about the manga Saiki Kusuo No Ψ Nan that anyone can edit. Please help us by creating or editing any of our articles! To edit articles, you must login or register to wikia.
We currently have 13,998 edits to 596 articles and 1,993 images on this wiki.
Saiki Kusuo no Psi Nan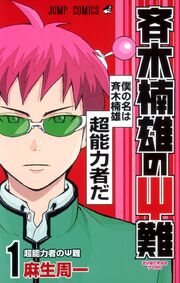 Saiki Kusuo no Psi-nan
(斉木楠雄のΨ難 Saiki Kusuo no Sainan, lit. "The Disaster of Psi Kusuo Saiki")
is a Japanese gag
manga series
written and illustrated by
Shūichi Asō
. Individual chapters have been serialized in
Weekly Shōnen Jump
since May 2012 until February 2018. An additional 2 chapters were released in May and July of 2018 in Shōnen Jump GIGA. All the chapters were collected into tankōbon volumes published by Shueisha. As of 2018, there are 26 volumes released. The manga inspired an
anime series
that premiered in July 4, 2016. Funimation streamed the anime under the title
"The Disastrous Life of Saiki K."
with English subtitles as it aired in Japan, and produced an English dub for the series'
first season
. A
second anime season
premiered in mid-January 2018 and a
special
that premiered in late December 2018. The series has a
live-action film
that opened in Japan on October 21, 2017. Recently, Netflix announced that it will produce an
original anime series
that will release in late December 2019.
---
Born with innate supernatural powers,
Saiki Kusuo
seems to have his life easy. He possesses various psychic abilities, including telepathy and psychokinesis among others, allowing him to get anything he wants. During kindergarten, he incidentally caught media attention after rumors of how he never loses any janken match against his friends and teacher spread around town. The incident made him came to the resolve of not using his power in front of others ever again so people will not find out that he is a psychic. But upon being a high school sophomore, with all hi-jinks that ensue, Kusuo is slowly cutting his resolve loose.
Characters
Did You Know?

Kusuke is like Makoto, he is obsessed with Kusuo and hates others who would get closer to Kusuo like Kokomi.


Kusuo once petted Anpu after he saved Kusuo when he was chased by a cockroach?


Hatakeyama-sensei was first introduced in manga without a name?


Toritsuka can see Kusuo's invisible form?


Yuuta doesn't get along with Kokomi at first but later got attached to her when he realized how she matched Peached T-Girl in the TV show he like?
External Websites
Affiliations
Quote of the Day
"
Well, since it was my first kiss, could you go easy on me?
"
On this Day
Featured Volume/Character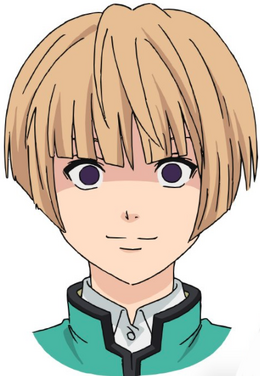 Akechi Touma
Kusuo's is a childhood classmate and one of the very first friend Kusuo has in Kindergarten. He is the 3rd student in the PK Academy to know of Kusuo's powers.
Latest Chapter/Episode
---
Kusuo and others are planning a trip. It would not be a bad thing, if it were not for the erupting volcano that can cause the end of Japan. Will he finally be able to stop it?
Social Media
Community content is available under
CC-BY-SA
unless otherwise noted.